Who are we?
We are a full service creative agency that specialises in the branding, marketing, strategy, and design for brands that consumers love. We tackle difficult projects head on, and are focused on achieving the best results for our clients. What began as a niche has developed into a philosophy as we refresh and discover new ways of approaching the landscapes of media, art, and business. We are not content to stand still.
As a flagship tenant in the historic Miner Building in Downtown Eugene, our office has become a creative hub. We work on brands from coast to coast inspired by an urban and vibrant city, an environment filled with art and design, and a carefully curated collection of coffee.
We are redefining what it means to be a creative agency. It's not just the projects or the designs or the strategies – it's the full experience of finding your voice, telling your story, and standing out from the competition.
What we do
We have been purpose-built around the needs of consumer packaged goods (CPG) food and beverage companies. With a combined 60 years of CPG experience among our 3 partners, we have worked with dozens of food and beverage companies – as well as businesses in a variety of other industries from healthcare to manufacturing – and our services have expanded based on client needs.
We craft, refine, and implement creative identities and voices that flow through the entire companies, defining the brand, the products, and their presentation, both internally and externally.
Utilizing our team's comprehensive skill set, we offer custom and scalable graphic, web, content, and advertising solutions. We are uniquely qualified to tackle commercial packaging projects and are one of the only agencies in the region that is highly experienced in Organic, non-GMO, FDA, and food and beverage packaging and industry. Our expertise in commercial design helps our clients reach the right target market while meeting their industries' production timeline and demands.
We work with businesses of all sizes, nonprofits, public entities, and local and state governments with a special focus on midsize food and beverage, lifestyle, CPG, and manufacturing companies.
Ninkasi Brewing is an award-winning brewery that has become one of the largest craft brewers in the United States. They asked us to create looks for a variety of new beers as well as refresh the look of their established beers. We were excited to take on this project and created a comprehensive suite of materials for bottles, cans, packaging, marketing, and trade marketing.
For more than 40 years, GloryBee has been offering honey, sweeteners, and other high-quality ingredients to natural food manufacturers, bakeries, markets, and directly to consumers. With such a broad scope of product offerings, they wanted our help to create a declarative and clean look that presented a unified statement while differentiating between their distinct product lines.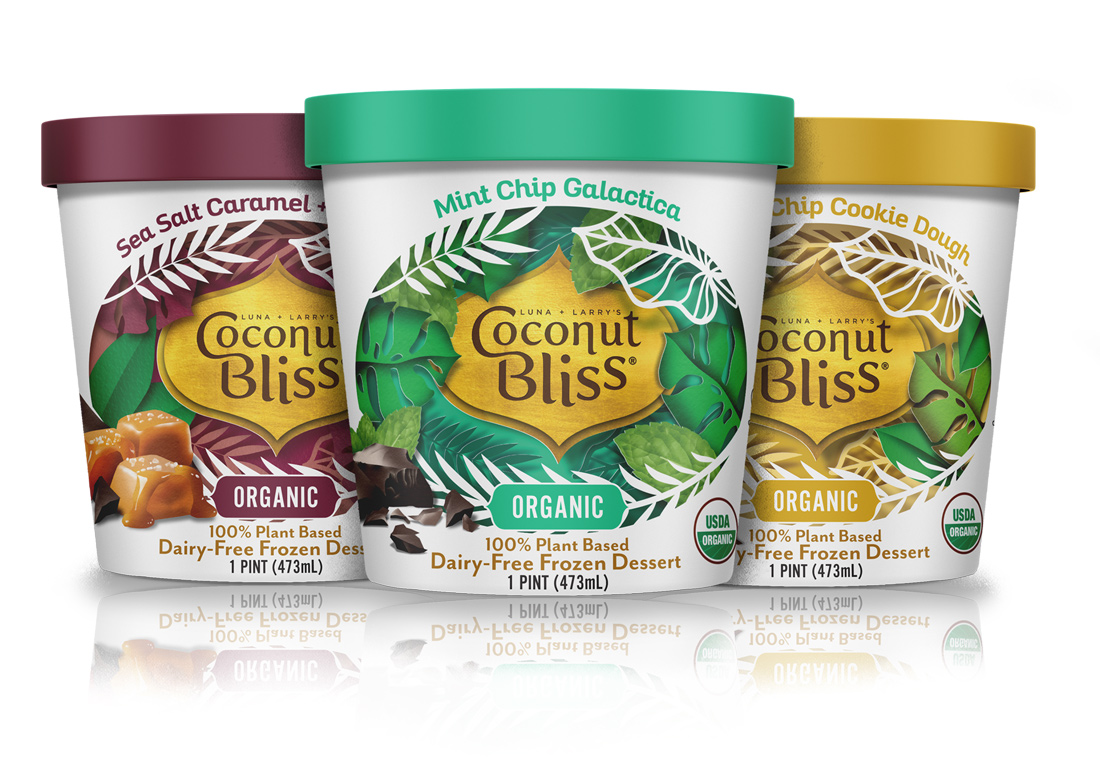 Coconut Bliss's plant-based, dairy-free frozen desserts have been delighting customers for over a decade. They came to us with the goal of modernizing the look on their pints, bars, and cookie sandwiches. We took the graphic DNA of the brand and updated it, highlighting the delicious Organic and Non-GMO ingredients in every product while also calling back to the tropical foundation of the brand's identity.
Since 1984, Yogi Tea has been blending organic herbs, spices, and botanicals to create delicious teas with healthful and wholesome benefits. With a partnership lasting over a decade, Yogi Tea is one of our longest standing clients. Over that time, we have offered broad brand support including rebranding their look, updating packaging, designing marketing collateral, and coordinating various print projects.
Our Team
We are driven by diverse leadership that is unafraid to go against the grain to find the best way of doing things. Our team consists of experienced, visionary, and bold professionals who have a knack for finding solutions that are effective and well planned, unexpected and surprising.
Jen Revoal
Founder, Owner, COO
Jennifer Revoal has founded and grown Revolution Design Group using her Bachelor of Arts in Multimedia and Design along with her 14 years of experience working in brand development, graphic design, web design, and social media. She has worked as a Graphic Designer in Eugene, Portland, and Seattle for a variety of different food & beverage and lifestyle companies.
She has presented social media trainings to state agencies, commercial enterprises, nonprofits, professional groups, the University of Oregon, and social clubs.
Seth Revoal got his start working for E & J Gallo Winery in sales and distribution, eventually becoming the lead Trade Marketing Analyst for the entire Northwest. From there, he went on to specialize in market and sales analysis and category management for multiple grocery chains throughout the western United States.
At Revolution, Seth provides marketing and strategy guidance to clients while also directly overseeing digital advertising, content development, and programmers.
Nick Yarger is a Southern California-bred designer, illustrator, and art director. After receiving a Bachelor of Fine Arts in Graphic Design from the Art Center College of design, he began work in the apparel industry with many well-known brands and companies. His goals are to consistently create thoughtful and unforgettable work for top-tier brands while making the process enjoyable for his clients.
Clients he has worked with in the past include Planet Earth, Plan B, JNCO Jeans, Tommy Hilfiger, Abercrombie & Fitch, Lucky Brand Jeans, Hurley, Quicksilver, Billabong, Rip Curl, Howe, Will Leather Goods, and Ninkasi Brewing Company.
Contact us
We're happy to talk about your project and answer any questions you have.